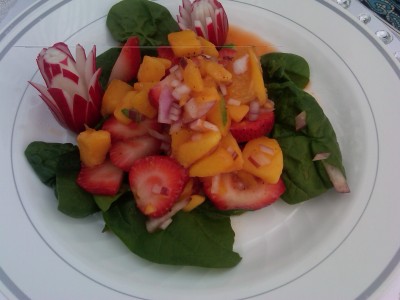 A wonderful time last night in South Riding, Virginia – where the ladies took some time to celebrate a very special birthday. (I think it was her 20th!)
The setting was very nice and everyone came together to celebrate the day, have a few drinks and eat some good food.
Once again – the guests made everything great for me. I hope I was successful in returning the same good time.
Shopping list for party of 7
Pan Seared Chicken Picatta:
1 ¾ to 2lbs. Chicken breast – 4 Large or 7 small breast
1 small bag of flour
2 sticks of butter (this is for the potatoes too)
Small bottle olive oil
1 small bottle capers
1 head flat leaf parsley
1 container Wegmans Food You Feel Good About Culinary Stock, Chicken
2 lemons (make sure they are soft for juicing and not rock hard)
Roasted Corn Salsa with Garden Tomato
7 nice ears of corn
1 large red onion
I will bring the tomatoes from my garden.
Roasted Rosemary Red Skin Potatoes
approximately 3 to 4 lbs of medium to small redskin potatoes
1 bunch rosemary
Tropical Salad
1 bag triple-washed spinach
1 medium bunch strawberries
1 bunch fresh radish
4 navel oranges
1 large red onion
4 or 5 ripe yellow mangoes. (remember that a little mushy is good – just no spots or noticeable smell of spoilage.