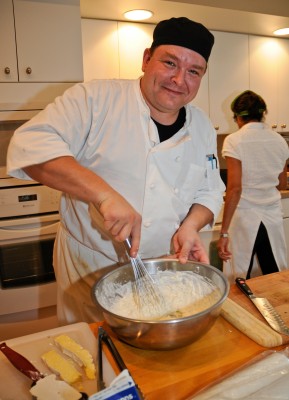 If you were out on the town last Saturday night, you might have found yourself asking, "Where are all the beautiful people?" The reason you couldn't find them is that we were cooking for all of them in Reston Virginia. There is no doubt there was a shortage of them on the streets because they were all in this house. And my wife, being one of them, volunteered to come help me on this mission and was right there beside me to enjoy it all.
The times are few and far between when, as a personal chef, we get to indulge in such a surrounding aura of sensory appeal outside of the food while we're cooking. Most of the time you're hunkered down in a blazing kitchen, cramped of comfort and style, chop-chop-chopping and bumping into everything because of the lack of size and your familiarity with the surroundings.
Then, enter this party – a gastronomic marathon for the ears, eyes, palate and mind.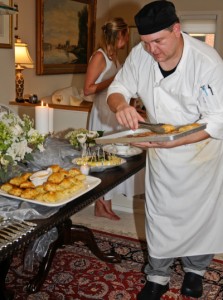 The hosts of the party became our hosts, as we worked our way through the late afternoon and into the evening. We were invited to sample the fine cheeses and wines as if we were one of the pack. There was music and laughter all around. Smiles permeated the atmosphere – everyone seeming to enjoy –  just simply being. The kitchen and middle island were open to the living room where many people congregated between courses. This allowed us to be center-stage to some extent while we cooked.  The labor of grinding out food for 5 straight hours seemed to vanish behind the vale of good cheer which resided in every corner of the room. To make it quite simple – it was just fun. Plain and simple fun. Maybe even raw and unabridged fun to some extent. It is definitely one of those occasions that I will remember for a long, long time.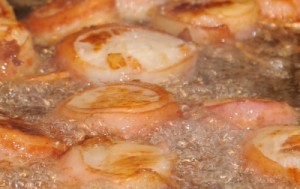 You might think all of the above would make it hard to focus on your work – but it was quite the opposite. The crowd was so excited to have a chef in the house preparing meals before their eyes that it made you want to work even harder. Smiles had to be combined with prep work, assembling the food was intertwined with descriptions and brief pauses for photos. Questions flooded the prep area, as did more happy people with more cameras, smiles and joyful interest at the goings-on.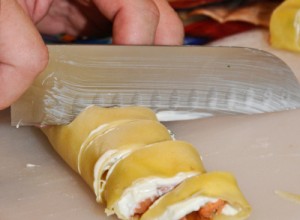 As with any event like this – nothing will ever be perfect. But this was a close to perfect as we could have come, and much of it was because of the graciousness of the guests at the party, the quality of the wine and food, the warm atmosphere that surrounded everything, and how comfortable the homeowners made us feel as we served them. I know I'm glowing a bit here – but I am… I'm really glowing about the day. It was just wonderful… Here is the menu we served…
Fresh Crepes stuffed with Smoked Wild Alaskan Salmon and Chive Cream Cheese Sauce
Brie in Puff Pastry Ravioli served with Pink Roasted Garlic Cream
Mini Maryland Crab Cakes with Dijon Tartar
Lobster and Shrimp Avocado Salad served with Garlic Crostini
Bacon Wrapped Jumbo Sea Scallops with Zesty Citrus Remolade
Filo Cigars stuffed with Confit Duck and Balsamic Raspberry Reduction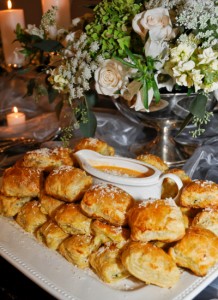 Each item presented it's own set of challenges when it came to timing, assembly and presentation – but each one of the dishes seemed to develop a little fan club until the next one came out. Add to that the sommelier selection of wine available at the party and many were able to wander from glass to glass, dish to dish, and savor the different flavor combinations. The quality of the menu would not have been possible without tremendous help from the homeowners – nor would the selections of wine – which veered away from my normal appellation selections – but were powerful, flavorful selections nonetheless.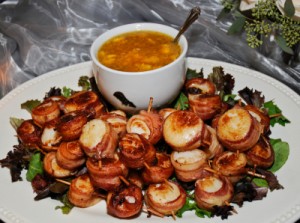 Inside of all this I would like to thank my wife, who in many more ways than one made the day possible. I'm proud of you honey… I've worked next to a lot of people over the years and I can say with a little authority on the subject that you are welcome to cook alongside me any day.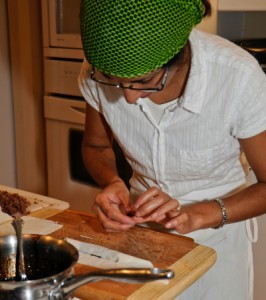 It was a special day for us – on a special occasion for our guests. I'm proud to have been a part of it, and incredibly happy that things worked out the way they did.