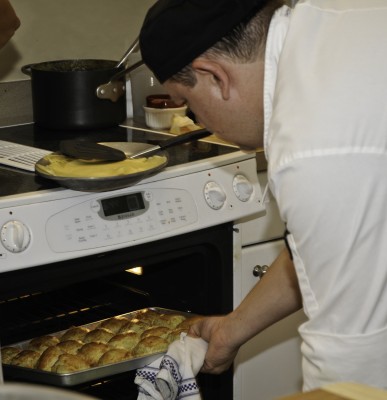 Cooking for me is about a connectivity with the soul, usually mine.  I often times will see a dish and cook it a hundred times in my head, work out all the ingredients, oven temperature and process – all before I've ever bought a single ingredient.
I don't really have any interest in cooking what I don't want to cook. Life to me is too short to spend my time challenging myself with unknown quantities and cuisines, trying to impress a stranger with a flavor from a food I know nothing about. I only want to cook what I know intimately. The things I trust and understand and can prepare with my mental eyes closed. Cooking is about a harmony for me; a harmony which can be disrupted when I toil with dishes unfamiliar to me. Experimentation is for my kitchen, not your dinner table.
Taking a catering job just to take the job is a mistake. If the guest is requesting a cuisine that you don't rehearse – then it is time to bow out and and refuse the work – or it will be much like watching someone read Shakespeare aloud for the first time. Confusing and without flow – or familiarity. These are events that sit like hot coal in my belly when I dream about them taking place in a guests home while cooking for them. They are the epitome of my nightmare scenario in the kitchen.
It is with this understanding that I must announce my intention to bow out of preparing vegetarian meals and dinners from here on out.
They do not feed my soul. I don't understand them. That being said, I cook a lot of meatless dishes at home for my wife and myself. I also eat in a few vegetarian restaurants, mostly Indian. But that doesn't mean I understand the cuisine or that I've earned the right to call myself an expert in vegetarian preparation. I eat vegetarian food for the experience, for adventure, for something different. I would never try to duplicate the process in someones kitchen. It's simply not what I love to cook and I have a hard time understanding the palettes of anyone who eats it exclusively. Asking me to cook vegetarian is like asking a life-long vegan to explain to me what roast venison wrapped in bacon tastes like. It's exactly that foreign to me.
My experimentations in the kitchen with meatless food preapration are exactly that – experiments. They certainly aren't something I would bring into the public lexicon and attempt to put on people's tables.
I cook meat, fish, poultry, game, mollusks, shellfish, pasta, reduction sauces, bread and lentils – and occasionally some vegetables to go along with them. Though I do make a pretty killer eggplant and potato gratin…
Asking me to hinge the success of one of my dinners on the happiness of a couple of vegetarians at the table is like asking me to command the final shuttle launch. Everyone in the room would just be sitting there – wondering who I was and what the hell I was thinking when I tried to pull it off. Sorry veggies.. I'm just not the right guy for you…