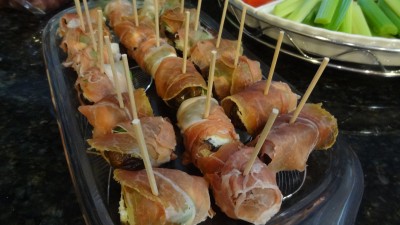 What goes into putting together a good Sunday Brunch for 15 women? Whatever your client requests. The biggest parts are preparation, timing and execution. Even though it is a lot of food, it can still be a light, fun day of cooking as long as you are prepared.
We shopped for groceries on Saturday. Our client also went shopping and bought additional appetizers and desserts. She's always helpful in organizing the serving dishes and getting the kitchen ready for us before we arrive and for that we would like to say thank you.
We had 4 hours to pull this off and ended up creating 15 of our most popular dishes. The guests were arriving at 12 Noon and we were out the front door at 11:40.
The Menu: (This was more of a lunch party than it was a traditional brunch)
Fresh Crepes stuffed with smoked wild salmon, cream cheese and chives
Steamed Shrimp with fresh made cocktail sauce
Prosciutto wrapped Medjool dates stuffed with mascarpone, herbed goat cheese and fresh basil. (special thanks to

Giada De Laurentiis for the date recipe

)
Tri-Color Cheese Tortellini Salad with fresh garden vegetables and feta cheese
Pan seared oven roasted side of Salmon with Citrus Mango Salsa
Jumbo-Lump Crab Stuffed Button Mushrooms
Thick Cut Applewood smoked bacon
Grass-fed Beef Tenderloin with red wine reduction and mushrooms
Ceasar Salad with house-made dressing and fresh croutons
Scrambled Eggs
Our popular strawberry butter with fruit nut bread and ciabatta
Chilled Asparagus
Wild brown Basmati rice
Deviled eggs and  a Veggie Tray