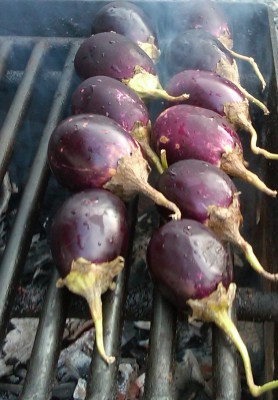 Now – admittedly we grew the eggplant and cukes in our garden so there is a little bit of an advantage there.
We took a batch of about 10 baby purple eggplants, skin and stems on and roasted them to perfection over an oak-wood grill.
You can poke them with your finger to check for done-ness, but be careful as they tend to steam inside while on the grill and one of them popped and sprayed molten eggplant goo all over the place – so you've been warned. Basically, when they're good and wrinkled it's time to pull them off and let them rest. They can even be refrigerated overnight if you want.
Once they're cooled enough to be handled – open them up and scrape the contents into a bowl being careful not to include any skin. Chop them up fine in the bowl with a spoon or metal spatula. Add a tablespoon of fresh tahini paste or grind your own from fresh toasted sesame seeds. You can also add some whole toasted sesame to the mix.
Grind one or two cloves of garlic in a mortar and add them.. Squeeze in the juice of half a lemon. A tablespoon of good olive oil. Salt and pepper to taste. Stir until well combined. Serve with fresh cucumber slices or quality crackers..
-The Chef