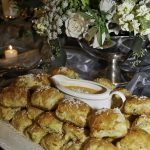 I like to put these dishes here as bookmarks – placeholders of sorts to help me remember them and to give you an idea of what I like to cook. Some of them still need to be "run through the mill" so to speak. Tested and refined and adjusted for what's in season and fresh, but in general it's the food which lives closest to my heart.
Right now – with fall and winter on the way, my emotions turn toward the hearty, warming dishes which get me through the cooler parts of the year. Grilled meats, gumbos and jambalaya. Rustic fish, poultry and beef stews with a starchy potato backbone. Rich pastas such as lasagna, tortellini and fettuccine, cannelloni and manicotti.
It's where my heart lies. It's the food I love to cook and eat.