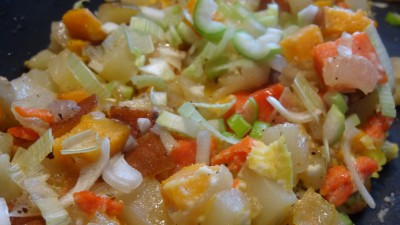 At least two Sundays a month we wake up to a dish I've started to call "Lumberjack Eggs". I guess I got the lumberjack part from the fact that we use smoked North Pacific Salmon such as Sockeye in the dish.
We usually start by sweating some yellow onions in the pan with about 3 tablespoons of olive oil. We also cut 1 sweet potato and 1 Idaho white potato into half inch cubes. We drop the cubes into seasoned boiling water for about 6 or 7 minutes. The water is seasoned with garlic powder, onion powder, salt and pepper.
Seasoning the water imparts the flavor of the seasoning into the potatoes without creating the harsh, breath killing byproduct you get if you add the garlic and onion powder directly to the dish. It is much more mild and desirable.
After the potatoes have softened, the onions you started earlier will be done. Strain the potatoes and add them to the pan with the onions. Toss them with the onions and allow them to brown a little. Finely chop 4oz of smoked Sockeye salmon or regular lox and add them to the dish and stir them in.  Stir in your well beaten eggs – we used 3 in the dish in the photo, blended with Grandma's magic splash of milk for each egg. (ask me about that one later).
Continue to cook the dish and push it around a little in the pan – allowing the eggs to cook completely.  Hit it with one last pop of salt and pepper and some chopped scallions. You can let it rest for a little – loosely covered – or you can serve it right away. We eat ours with fresh made flat bread or crackers most of the time. You could also top it with a sour-cream ancho-pepper dressing from a squeeze bottle if you want – but that's a bit fancier than we get at home..