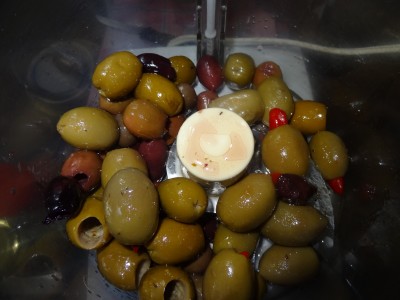 It starts with a selection of four different types of pitted olives; Piri Piri stuffed green colossal olives, Greek green olives, Greek black olives and Kalamata Olives which I scooped up from the local Wegmans olive bar. They're prepared, seasoned and oil or brine soaked. Be sure to strain off the juice whatever it happens to be. You can see from the picture that the majority of the mix consists of the green variety.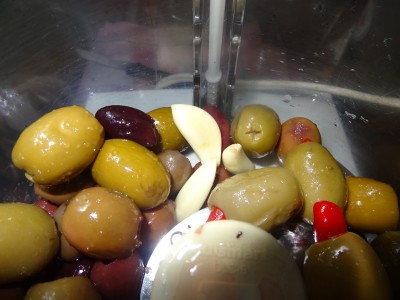 To this you add 3 or 4 small garlic cloves or 1 very large clove.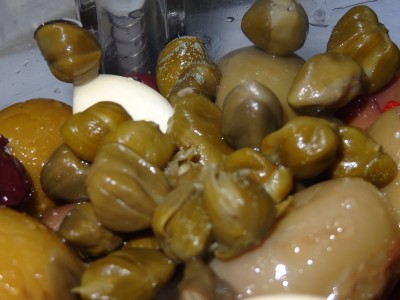 Then you add about 1 1/2 tablespoons of capers – these happen to be on the larger side.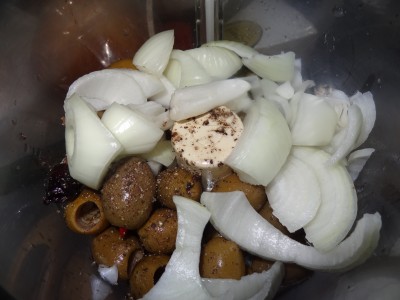 Rough chop a small onion and toss it in the food processor.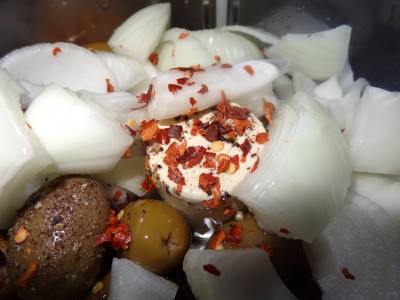 Add about a half a teaspoon or less or crushed red pepper flakes, depending on your taste for heat.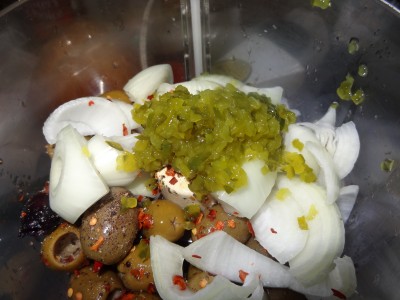 Add 1 1/2 tablespoons of sweet pickle relish to the mix. It's simply there to balance some of the tartness of the olives.
To this mix add 2 tablespoons of olive oil, 1 tablespoon of prepared horseradish, a few turns of a black pepper mill and a 2-inch long squeeze of Giovannis anchovy paste which comes in tube form from most markets. Notice I didn't add any salt. This is one of the last dishes on earth that needs any.
Close the lid of the processor and pulse the unit on an off for ten seconds, then scrape down the sides.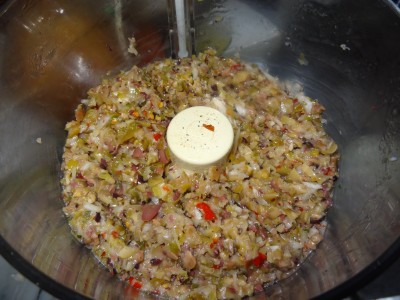 At this point you can stop and serve immediately or cover and put aside overnight to let the flavors mellow. This will preserve a bit of differentiation in the flavors of the various ingredients.
I like mine blended a little more which helps it spread better on bread and crackers. So add another tablespoon of olive oil, cover it back up and spin it for another 10 to 15 seconds. Any more and you will liquify the mix – which would really suck – so go easy. Below is what the mix should look like when you're done.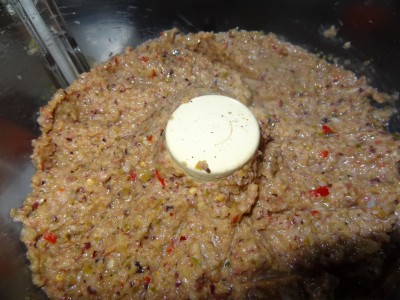 Serve in a bowl with Carrs Table Water Crackers or fresh bread of almost any kind. Feel free to alter the horseradish or red pepper a bit if you want to torque up the heat a bit.
Enjoy.