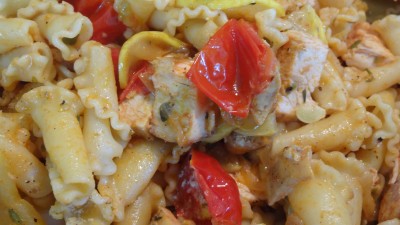 First, let's start with chicken.
Start by dressing the chicken with your favorite seasoning. We use a secret blend of spices which we won't tell you here; but salt, pepper, garlic and onion powder will get you close enough. Because we use chicken breast which can dry out if they stay on the grill too long, we sear them and mark them on both sides and allow them to par-cook for a while.
Then, we place the chicken in the stainless steel pan, cover the pan tightly with aluminum foil and set it up on top of the grill, allowing the meat to roast in the pan until done. When doing a whole cut-up chicken, we place the legs at the bottom of the pan and the breast on top of them to protect the breast from the heat of the fire.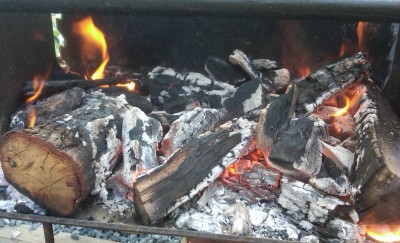 We use a combination of hardwood charcoal and fresh oak for grilling and roasting. The fresh oak helps lend a smoky flavor to the meat when grilling.
Here is how to make the dish:
As always, olive oil, salt and pepper to taste.
Saute – ½ large yellow onion – rough chopped – until soft
Add 2 seeded jalapeño peppers – minced – saute until soft
Add 1 medium to large sized summer or yellow squash – quartered and sliced thin – cook for 3-5 minutes until it begins to soften
Add 2 cloves of garlic – minced – saute in oil then stir in
Put in 2 fire roasted chicken breast – cubed
Reconstitute 2 tablespoons of tomato paste with a half cup to ¾ cup of hot water – pour into pan
Throw in ½ teaspoon of oregano and ½ teaspoon of thyme – stir in and cook for a few minutes
At the last minute, add 8 to 10 small red tomatoes – halved
Then, add cooked pasta and stir in.
Turn off heat – cover and let rest for 5 minutes.
Prior to serving, toss the dish with ¼ to ½ cup fresh ground Parmesan and serve.