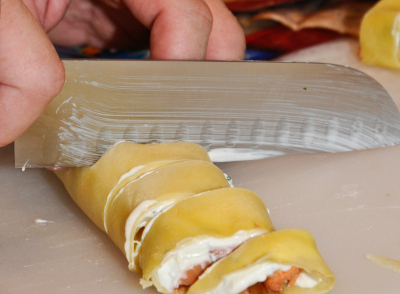 Where to find the basic recipe for simple  fresh crepes? This recipe is gathered from Joy of Cooking by Irma S. Rombauer, Marion Rombauer Becker and Ethan Becker.
Combine in a blender or food processor until smooth: (Ingredients verbatim from the book)
1/2 cup all-purpose flour
1/2 cup milk
1/4 cup lukewarm water
2 large eggs
2 tablespoons unsalted butter, melted
1 1/2 tablespoons sugar
Pinch of salt
Our Notes: We use about two teaspoons of sugar (the recipe calls for 1 1/2 tablespoons (We find it too sweet). We refrigerate our batter overnight, just like the recipe suggests. It makes a smoother and more consistent batter the next day.  We use a small pad of butter for each crepe. Be sure to cook them until they are golden brown on the bottom as it is more appealing to the eye and adds a little flavor. We don't flip them; we only cook one side.
This recipe yields about 6 crepes when using 8 1/2 inch non-stick crepe pan. The first one might not be perfect. As we make them and stack them up; we place a paper towel under the very bottom crepe to keep them from getting soggy. Most often we stuff them with smoked salmon, cream cheese and chives. We also fill them with cinnamon glazed bananas from time to time. Because we put less sugar than the recipe calls for, they seem to be more versatile when it comes to ingredients you can fill them with. Enjoy!