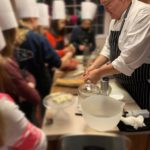 Chef Michael leading a wonderful interactive cooking class at a private home in Burke…
I'm completely in my element as a trainer, instructor and coach.
This event was a 15th birthday party with 10 little assistant cooks learning about knife skills, reductions, saute, roasting, seasoning, preparation methods for pasta stuffing and tomato sauce.
We stuffed pasta shells, made fresh tomato sauce, prepared fresh bruschetta with a balsamic reduction, prepared gluten free lasagna, smoked mozzarella cheese, toasted breads, learned to chiffonade, dice and mince.
It was a wonderful time and I can't wait until my next opportunity to teach. Such a lovely time and a great environment for learning – in the privacy of your home… It's a great way to spend a night.
Lessons for students of all ages. Whether it's modern food or timeless classics, sign up for an interactive cooking class for your friends and family members now.
We will help you create custom menus and come up with creative learning tasks to make them fun and memorable. From grilling to roasting, stir-fry to baking. Learn knife skills, seasoning and methods of preparation, tricks of the trade and the how-to of the voodoo that we do in the restaurant and catering trades. Up your kitchen game and learn some new skills, gain confidence and extend your knowledge in the world of culinary arts.
Classes are available for all age groups and can be modified to fit any dietary restrictions.
Contact us and start planning your event today.